1. Vypress Chat advantages
---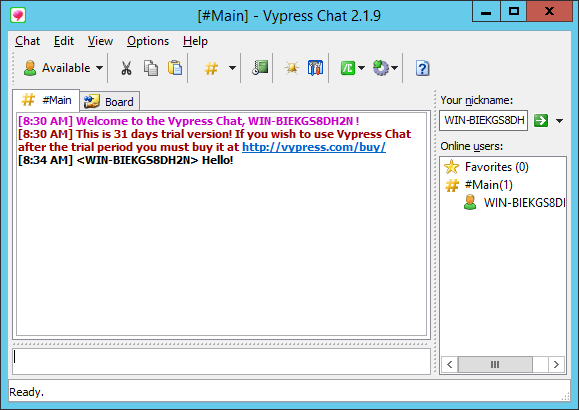 Vypress works in local networks only and does not require an Internet connection. The program does not need a special server because every copy is a server and client at the same time. All chat users have equal rights (there are no administrators or moderators).
Vypress has everything for sending messages, simple conferences, bulletin board, and file transfer. The program is commercial (no free license) and has 31 days trial period. Vypress Chat costs about 19 dollars per one user.
Vypress setup file is distributed as an MSI package that is comfortable to extract the messenger in a domain on several computers via Group Policy (GPO). Unfortunately, you can't use it normally with a large number of working stations (and we will explain to you why a little bit later in this article).
The Vypress Chat strength and weakness are in its simplicity. The program is easy to install, but you must have administrative permission or disabled UAC. The reason is that the program is installed in the Program Files folder by default and requires elevated privileges to add itself to the Windows Brandmauer exception list.
2. A quick look at Vypress Chat disadvantages
---
The latest version of Vypress Chat (v.2.1.9) was released on June 16, 2011. Since that time the program does not update and its official support forum works in the "read-only" mode (you can't register and ask a question). During the past several years there are questions from users without replies.
An administrator was active on December 01, 2016.

2.1. Vypress Chat does not recognize users
---
Usually, this problem occurs in multi-segment networks and you have to configure the client application manually to make Vypress Chat work. That is not a big deal when you have 10-20 computers, but if you have a large network system it becomes a problem. The program does not have a server and you can't really know if a user is online or not.
Here is a good example. A standard office computer: notebook with 2 network interfaces, Ethernet (Realtek), and Wi-Fi (Broadcom) adapter. The computer is online via the wireless connection, has DHCP IP — 192.168.10.113, and Windows 8 operating system. Let's take a look at these computer properties in the chat: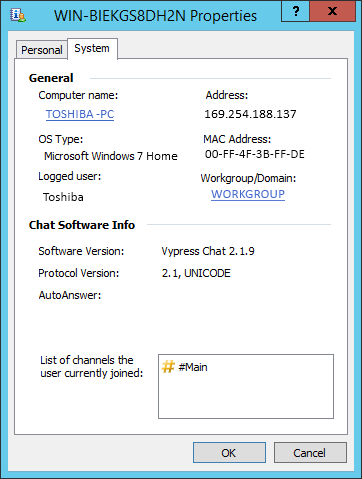 Vypress Chat couldn't identify its active IP. What is more interesting is that 169.254.187.137 address does not exist (it is easy to check by using the ipconfig/all console line.
An operating system and MAC address display incorrectly too.
TOSHIBA-PC user can't be seen on another computer in the local network even if he uses the same network segment (192.168.10*).
Broadcast packages crash automatically on border routers and it makes impossible to connect Vypress Chat between different subnets.
Other reasons of user "invisibility" in Vypress Chat are conflicts with antivirus programs that filter all network traffic.
2.2. File transfer problems
---
The first problem is that the user does not get a request to receive a file. Vypress think that a receiver is online but in fact, it is an offline user and it is impossible to send a file to him.
Vypress does not determine for sure that the user is offline. Offline transfer is impossible because the program has no server.
Local firewalls and antivirus software are in the second problem. They block the file receiving because to receive files Vypress Chat must launch a simple server that processes the network traffic which is usually impossible on computers with users who have limited rights.
There is also a problem when a receiver does not see a request from another user and the file transfer becomes impossible.
2.3. Messages from people who did not send them
---
Here is an example: two people who are registered under different nicknames. If one user sends a message, it appears in the chat on behalf of another user. It is possible in a P2P network because there is no strict control of the system information duplication due to the server absence.
The problem can be solved by the complete deleting and repeat installation of the application (the problem is related to the system GUID duplication).
2.4. You can't manage users in Vypress Chat
---
As an administrator, you can't register new employees and configure a common corporate style for the name displaying in the chat. Users will name themselves as they wish (be ready for nicknames such as "AgEnT_007", "MissBunny" or "Master_YODA". It will be a challenge to guess who is a chief manager and who — SMM specialist.
2.5. No administration and moderation functions
---
You can't manage Vypress Chat users in your network. It is impossible to forbid private messages or file transfer. There are no control functions, access permission sharing, conversation control, and other useful things that must be in the corporate environment.
For example, your boss forbade all managers to communicate in the chat by private messages (in a special common conversation only). However, you as an administrator can't do it technically. You must ban a specific list of users from the bulletin board or file transfer but this is an impossible thing to do.
You can't truly identify users because there are no links. Employees decide how to name themselves and what to do in the chat. If someone like "Bumblebee" sends confidential information in the common conference by mistake then you will never know who did it (you also unable to delete this message). Doubtful network democracy, agree?
It does not mean that Vypress Chat is a bad program. But it has no control or management functions because of its architecture that has no server.
2.6. No Android, Linux, MacOS, WEB applications
---
Vypress Chat exists only for Windows operating system. Therefore, if you have Android, MacBook, or Linux users in your company, they all can't use Vypress Chat because there are no versions for these operating systems (and it seems that it is never going to happen due to the fact that the program development finished in 2011).
2.7 Vypress Chat does not work via the Internet
---
You can't link remote offices and configure your employees work via the Internet because Vypress Chat uses broadcast and multicast for its work.
The only way to do this is to configure VPN along with your offices and make a common network without segments. But the point is that it's not safe and comfortable.
2.8. Messages disappear in Vypress Chat
---
You can send an important message into a corporate chat but be ready that on the next day your co-workers will say that they did not receive anything.
Vypress Chat has no security control technology of the message delivery, so be ready for such unpleasant situations. Notice that if you have a large number of employees in your network then such incidents are going to happen all the time.
The reason for all this is simple — Vypress Chat has no main server to track message delivery security.
2.9. Network problems with broadcast traffic
---
You will have no serious technical problems with the network if you have 10-20 users in your company. But if there are more than 100 users that the Vypress broadcast traffic will become a problem.
For example, Vypress Chat uses broadcast packages to notify everyone about an online user, his chat status, and that he sends messages to a common conference. In the client-server model, it is a server that does all these things in the right way.
Vypress sends a data to all network computers. even for those users who do not need it or have no corporate chat application at all. You ask — why these network hosts have data that was not intended for them? After all, any online computer can receive confidential messages in hidden conferences.
The security question remains a questionable thing.
Again, this is a technology problem because, as we said before, Vypress Chat is a program without a main server. It must use broadcast messages in various situations and you can't change it.
2.10. No voice or video chat
---
Notebooks sales exceeded traditional desktop sales in the whole world for a long time ago. It means that user has computers equipped with webcams and microphones. Most of the notebooks have HD cameras that can provide pictures more than 1280x720p resolution.
Unfortunately, Vypress Chat can't work with this equipment because it's too old and does not support voice or video calls. You need a modern model of intranet communication to organize "your own Viber or Skype" in a corporate network.
2.11. Vypress Chat does not work on the terminal server
---
Vypress Chat is not intentionally intended to work in terminal sessions. This is a client-server application that binds computer network interfaces to track UPD/TCP traffic.
It is impossible to launch two or more Vypress applications from different folders in one session because the program calls its first copy and finishes work. If you try to launch them in different sessions for terminal server users you will get no connections and the programs will interfere with each other.
Here what is said on the ifficial support forum, цитата:
"Actually Vypress Chat is not intended for use on a Terminal Server. There is only one way to use it on terminal clients it is configuring a terminal server for many IP addresses and configuring Chat on a terminal client for different IP addresses from the group. It is not convenient but there is no other way."
As you can see the solution is not that good.
The current situation is still the same. You can't make Vypress Chat work in the Windows terminal server environment.
3. Vypress Chat and MyChat intranet messenger comparison
---
Vypress Chat does not develop anymore (its development ended in 2011). If you still use it then replace it with an appropriate program.
Vypress Chat is a P2P messenger with no main server. For small networks for 10-20 users it is an easy solution but very expensive.
With no client-server technology, you won't get a security, controllability and ability to work in multi-segment corporate networks or via the Internet.
In the following table, we compare Vypress Chat v.2.1.9 basic abilities and MyChat v.6.6 (free version) for February 18, 2018.
№
Ability
Vypress Chat
MyChat
Installation, uninstallation and update system
1.1
Installer
Yes
Yes
1.2
Uninstaller
Yes
Yes
1.3
Automatic Installation
No
Yes
1.4
Automatic updating system
No
Yes
1.5
Automatic updating and saving of all the data when installing the latest version over the old one
No new versions
Yes
1.6
Portable version
No
Yes
Network settings
2.1
Work in large networks
Yes
Yes
2.2
Work in complex networks and via the Internet
No
Yes
2.3
Guaranteed message delivery
No
Yes
2.4
Work in terminal sessions
No
Yes
2.5
Traffic encryption
Weak, unreliable
OpenSSL
2.6
Work in very bad networks (satellite connection, "long" pings)
No
Yes
Default functions
3.1
Private messages
Yes
Yes
3.2
Text conferences
Yes
Yes
3.3
Notifications with a return receipt
No
Yes
3.4
Common Bulletin board
Yes
Yes
3.5
File transfer
No
Yes
3.6
Images transfer
No
Yes
3.7
Automatic backlight for links in a text
Yes
Yes
3.8
Messages history view
Yes
Yes
3.9
Event sound notification
Yes
Yes
3.10
Personal contact list
No
Yes
3.11
Sending messages and files to offline users
No
Yes
3.12
Graphic smileys
Yes, limited
Yes
Active Directory integration
4.1
MSI package to deploy users via Group Policy
Yes
Есть
4.2
User transparent authorization
No
Yes
4.3
Importing users from the Windows domain
No
Yes
4.4
Support for any amount of various domains
No
Yes
4.5
Collaboration between common and domain users
No
Yes
Appearance configuration
5.1
GUI languages
Yes, UNICODE
Yes, UNICODE
5.2
Appearance customization
Yes
Yes
5.3
Font changing
Yes
Yes
Administration
6.1
Centralized configuration of user rights and restrictions
No
Yes
6.2
User Groups
No
Yes
6.3
IP, MAC filters
No
Yes
6.4
Anti-spam and anti-flood filters
No
Yes
6.5
User management system
No
Yes, WEB interface
6.6
Detailed reference information about users (Full name, email, phone numbers, date of birth, photo, etc.)
No
Yes
Operating systems
7.1
Windows
Yes
Yes
7.2
Android
No
Yes
7.3
Linux
No
Yes
7.4
Mac
No
Yes
7.5
WEB
No
Yes
Additional abilities
8.1
User network status "free", "busy", "away"
No
Yes
8.2
Scripting language to write simple programs which extend chat abilities
No
Yes
8.3
Integration with external services
Yes
Yes (1С, phpBB, REST, php, C#, Delphi, Python, etc.)
8.4
User search system
No
Yes
8.5
Tree-like contact list that is common for the whole network with an unlimited nesting level
No
Yes
8.6
Account manager for several users who work on the same program
No
Yes
8.7
User ignore system
Yes
Yes
8.8
Plug-in system to extend program abilities
No
Yes
8.9
Company department list
No
Yes
8.10
Company work position list with the sorting "superiors from above" in the contact list
No
Yes
Technical support
9.1
Built-in help system
Yes, English only
Yes
9.2
Community support forum
Yes, does not work
Yes
9.3
Developer support via email
No
Yes
9.4
Additional reference information, articles about the program use on the website, blog, etc.
No
Yes
9.5
Developers support via Skype, Viber, Telegram, WhatsApp
No
Yes
4. Helpful recommendations on moving to MyChat
---
Office chat Vypress Chat has not been developing for a long time, compatibility with new operating systems becomes worse and there is no support for Linux/MacOS/WEB and mobile OS at all. The program replacement is a question of time and money.
It will be easy to move from Vypress Chat to MyChat because for small companies up to 20 online users there is a free standard MyChat license with some insignificant limits (what is the difference between commercial and free MyChat versions?).
For bigger enterprises with 20 users and more, you should compare prices of MyChat closest competitors such as Skype for business.
The MyChat license agreement is quite loyal. One online user costs $6. Starting from the date of purchase you get one year of free updates and then you can chose whether to pay $2 per user or stay on the existing license for an unlimited amount of time (the server will still work). Notice that almost all MyChat Services are included in this price (except MyChat Guest and Distrib maker).
MyChat has a long development history since 2004. New versions are released 5-6 times a year.
Take advantage of the speed and quality of the MyChat official support forum. Our team is always ready to help you!