MyChat Guest — invite any person to a corporate chat
Double mouse click and a person gets an invitation to his Email. Click on the link in the letter, and you already communicate in a corporate chat. No registration needed.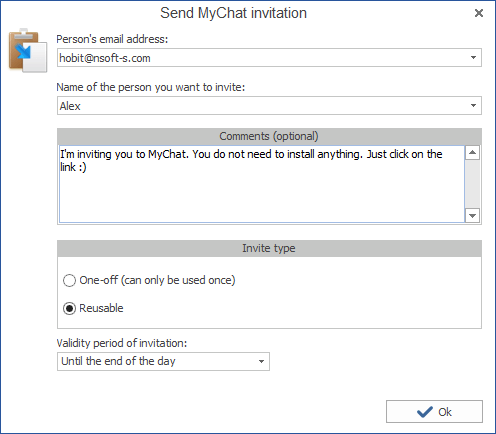 1. Invite your customers and business partners to the corporate chat
They do not have to install any programs, register or enter personal information. It is enough to click on the link in the letter to communicate in the chat instantly.
2. Chat, voice and video calls
You can type messages and make calls. This feature works in a browser, on computers, tablets, smartphones with no plug-ins and Flash.
3. Disposal and reusable invitation
You can limit invitation duration time and a number of links to it. Even if one of the users is offline, you can still send messages, and their copies will be sent to the Email.
4. Excellent technology to support your users
All you need is an external IP address and MyChat Guest. MyChat does anything else for you.