Voice and video calls in MyChat
Make free voice and video calls in MyChat. The highest possible connection quality, low system requirements, and lots of useful functions.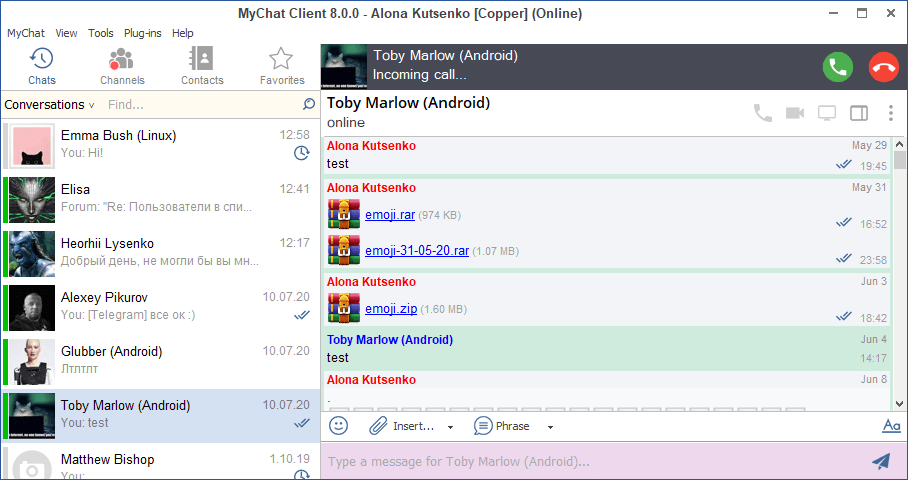 1. Save money on phone calls
It's more convenient than a phone. It makes no difference whether the person you're talking to is in the next room or another country. No need to add contacts — all employees are already in your unified address book. Talk to colleagues everywhere: at the office, on business trips, between subdivisions in different cities, or from home. Solve work-related issues quickly with voice!
2. Excellent audio and video quality
MyChat automatically adapts to the quality and speed of your connection and features noise reduction. There is no "echo" and no delay, even on laptops and tablets, with no headset. The speed of a standard mobile GPRS connection is entirely sufficient for voice calls, to say nothing of Wi-Fi, LTE or 3G.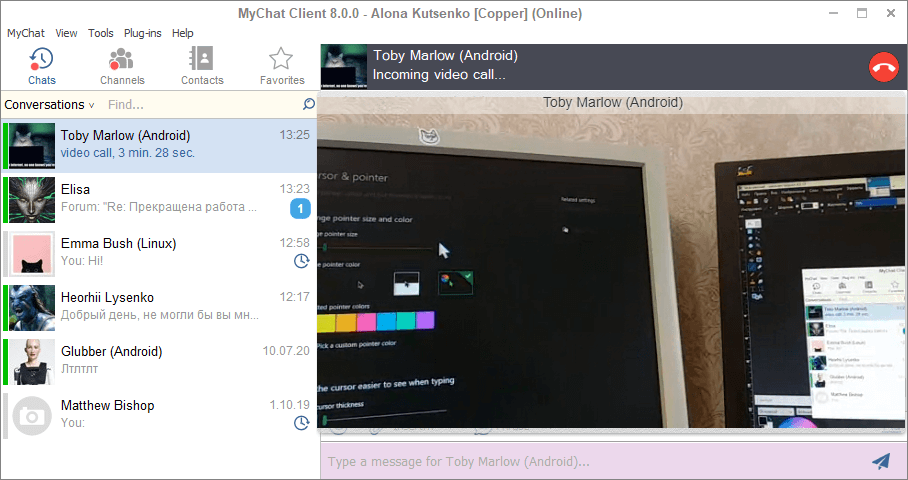 3. Screen sharing during a call
It looks like a regular voice call + screen sharing of your desktop (as in Skype). This feature works in local networks and over the Internet, on Windows, macOS, and Linux: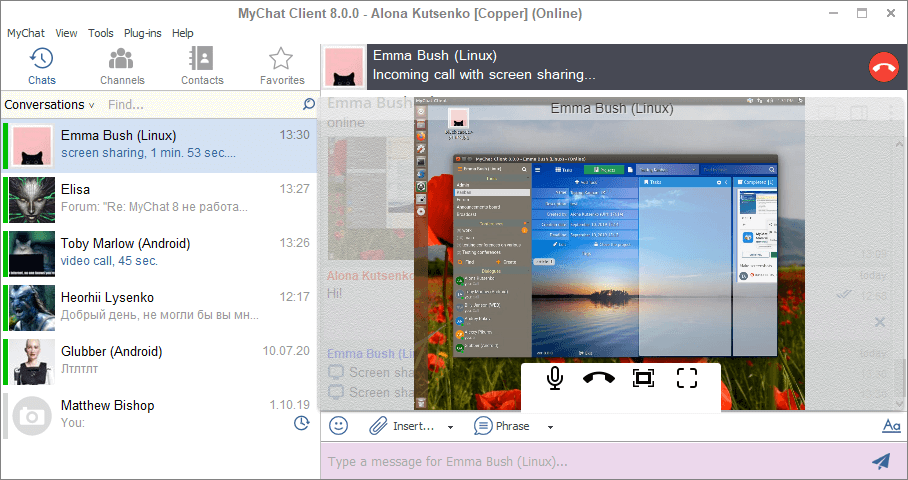 4. Make calls in a browser without having to install additional software
Calls work just as they do in MyChat Client in all modern browsers. MyChat uses WebRTC technology. No need to install any additional plugins, Flash, or anything else.
5. MyChat works on all devices and operating systems
Computers, tablets, smartphones — calls will work everywhere. You can make a call from a browser on an Android tablet to an employee's MyChat Client running in Windows. Or from web chat on the website to a manager or tech support employee on their smartphone.
6. Protection against wiretapping
All calls are made through your own server within the company. Confidentiality, security, and complete independence from other internet services are crucial aspects of any company messenger.
7. Don't just sit there!
Use text chat and exchange files during a call. Open the video chat window in fullscreen mode. Turn your camera or microphone off for a while if you need to without interrupting a call. Transfer screenshots and photographs.